Shipment Rating
The rating screen is clean and easy to read. Discounts, class exceptions and other user preferences can easily be preset and maintained. All input needed to rate a U.S. shipment can be entered using the 10-key pad on a keyboard. The toolbar provides access to other modules.
ZIP Code Finder
If you have trouble remembering U.S. ZIP Codes for certain cities, you will appreciate the ZIP Code finder which allows you to quickly find ZIP Codes for over 60,000 cities in the U.S.
Profiles
The Exclusive Profile Editor allows users to easily manage discounts, class exceptions, and ZIP/Postal Code information for an unlimited number of accounts or locations.
Save rated shipment information
Shipment rating information can be saved for every shipment automatically, or manually for certain shipments. A variety of options allow you to create a shipment data file in the format you want.
Speed Sheets
Easily create simple one-section and compact paper-saving two-section ZIP Code rate sheets. User input information (ZIP Codes, discounts, page headings, etc.) can be saved to a file for future use. Use the Speed Sheet module to export single origin ASCII fixed length, delimited and print format files.
Bill of Lading
Shippers can easily create a bill of lading detailing shipper, consignee and billing information, and commodities being shipped. An unlimited number of shipper and consignee address and related commodity description lists may be entered and saved.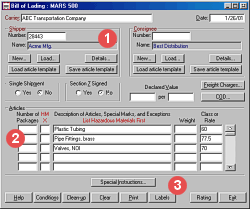 Create bills of lading detailing carrier, shipper, consignee and billing information, and commodities being shipped. 1. Multiple shipper and consignee addresses can be set up. 2. Article descriptions are stored in templates. Individual templates can be set up for an unlimited number of shippers and consignees. 3. Print shipping labels without leaving the program.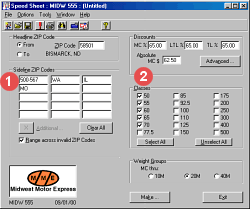 The Speed Sheet moduld lets you export data files as well as print rate sheets by ZIP Code. 1.Destination ZIP Codes may be entered as ZIP ranges or even state abbreviations. 2. Include discounts and only the freight classes needed.